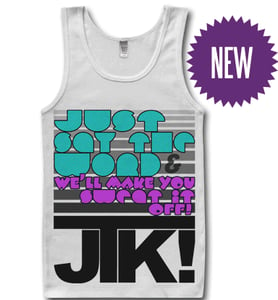 $

15.00 - On Sale
OUR NEWEST ITEM IN THE JTK STORE JUST IN TIME FOR SUMMER!
A FLASHY NEW TANK TOP!
"JUST SAY THE WORD AND WE'LL MAKE YOU SWEAT IT OFF!"
ORDER NOW AND GET SHIRT SIGNED (IF YOU'D LIKE) ALONG WITH A FREE SIGNED POSTER!!
GET THIS WHILE ITS STILL HOT TO LOOK GOOD ALL SUMMER LONG!
***PLEASE NOTE: IF YOU NEED ANY ORDERS SOONER THAN STANDARD FLAT RATE SHIPPING CHARGES, PLEASE CONTACT US AT "JTKBAND@GMAIL.COM" AND WE WILL DEAL WITH YOU PERSONALLY!